Transitioning to a blue economy
We have identified which marine activities have the potential to help New Zealand transition to a blue economy – ie they are sustainable, resilient to climate change, minimise waste, and have positive impacts on society and culture.
| Project Leader | Duration | Budget |
| --- | --- | --- |
| Nigel Bradly (Envirostrat) | August 2019 – November 2019 | $90,000 |
Overview
This project did a stocktake of national and international blue economy developments, and examined threats and constraints, as well as opportunities.
The team worked closely with iwi and stakeholders to gather a range of perspectives to ensure a broad understanding.
Sustainable Seas defines a 'blue economy' as: Marine activities that generate economic value and contribute positively to ecological, cultural and social well-being.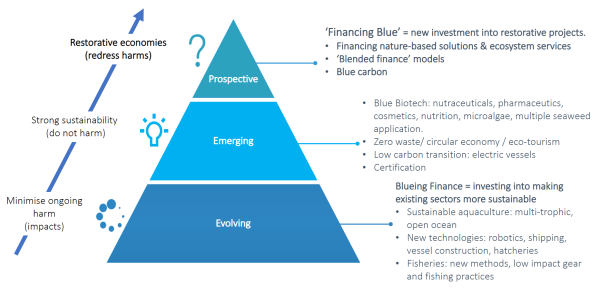 Next steps
This work is a critical foundation for developing projects under our Blue Economy research theme and the Innovation Fund.
Research Team
Nigel Bradly (Envirostrat)
John Reid (Canterbury University)
Cerasela Stancu (Envirostrat)
Fraser Stobie (Envirostrat)
Victoria Jollands (University of Auckland)
Nick Lewis (University of Auckland)
Related News
Location
This is a national project.