Robust, cost effective marine monitoring
This impact case study (June 2021) describes how recommendations for designing robust monitoring programmes are being taken up by regional councils.
The reports Our Marine Environment (MfE/Stats NZ, 2019) and Managing our estuaries (Parliamentary Commissioner for the Environment, 2020) highlighted issues around data gaps and how these affect marine management decision-making. The PCE recommended establishing a "robust monitoring system to help local government and communities make informed decisions".
This is because the cumulative effects of stressors caused by human activities and natural causes can lead to a 'tipping point', where an ecosystem loses its capacity to cope with change and it rapidly transforms (see diagram).
Tipping points are difficult to predict and often result in the loss of valuable marine resources or ecosystem services.
Ongoing, long term environmental monitoring is critical to:
Detect the early warning signs (EWS) of when a tipping point (TP) is approaching
Increase the certainty that a TP has occurred
Figure 1: Interactions between multiple stressors can lead to a loss of ecosystem resilience and an increased risk of crossing a tipping point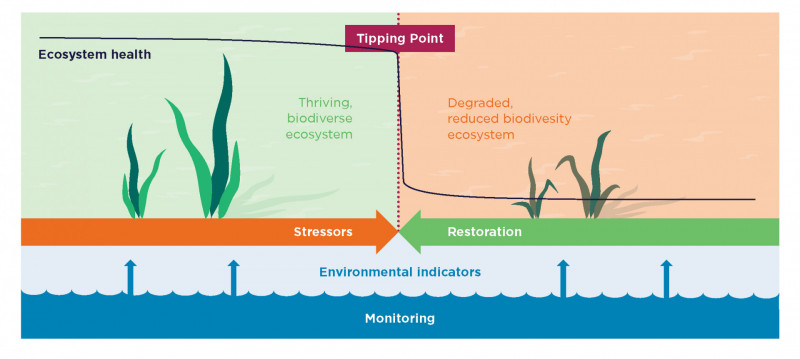 Findings and recommendations