Posted on 11 February 2022
Te Au o Te Moana – Voice of the Ocean: Clare Bradley
Clare Bradley leads a sustainable wh

ānau

owned rimurimu/seaweed business. Her strong connection with the moana started at a young age and she is passing on a respect for our oceans to the next generation as both a business leader and mother.

View the entire audiogram playlist

As a child, Clare Bradley spent six weeks every summer roaming Moturoa Island in the Bay of Islands. Clare and her siblings would "walk the seashore, clamber up the rocks, and learn to row boats." She chuckles, recalling their band of cheeky kids would always "get into a little bit of trouble, but safe trouble".
"Rock pools were always my favourite place to go and get lost."
A young Clare would plop down into rock pools, feeling the different temperatures and seaweeds of each fascinatingly unique pool. She would drape rimurimu across her head and pretend she was a mermaid in the infinite playground of the ocean.
These childhood experiences in and around Aotearoa's ocean were "foundational in forming a relationship to the moana". At the time, Clare had no idea that her childhood fascination with rimurimu would become the foundation of her family business.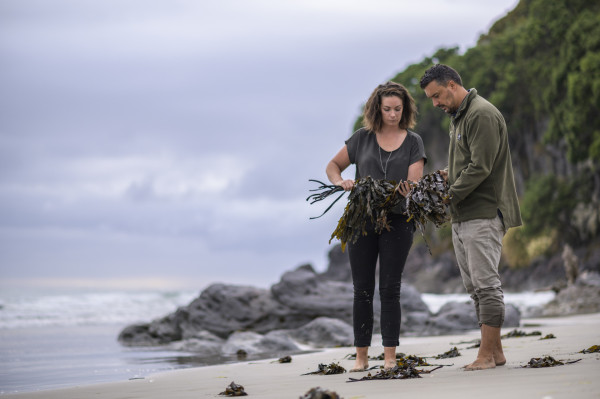 Clare is a Director of AgriSea, an innovative business that makes products from seaweed. She partners with Sustainable Seas by sharing educational talks and modelling a successful blue economy business – one that contributes positively to social, cultural and ecological wellbeing.
Her passion for sustainable business in Aotearoa started in an unlikely place – the Amazon rainforest. In her 20's, she worked for two years in environmental science, supporting indigenous communities to establish enterprises that would preserve their native rainforest.
While working in the Amazon, she realised she hadn't seen the ocean in 18 months. "I flew on a tiny aircraft to get out of the remote rainforest location, and then jumped on a bus. I travelled through Ecuador, Bolivia, and down into Peru."
"I'll never forget the moment of coming over the hill and seeing the ocean for the first time in 18 months - I burst into tears."
Being halfway around the world helped her understand how important the moana is, "you don't realise what you're missing until you're missing it." This moment made her realise that "we don't want to discover how important the ocean is to us by the loss of its health and wellbeing."
After returning from South America, she met her husband Tane and "married into the seaweed family". Since then, she has learned that our close to 1,000 native rimurimu species are critical for "marine ecosystems, for food webs, for habitat, for climate, other fisheries, and life in the ocean." She now brings her scientific and business knowledge to her role, sharing the benefits of our native seaweeds with farmers and business owners throughout the motu.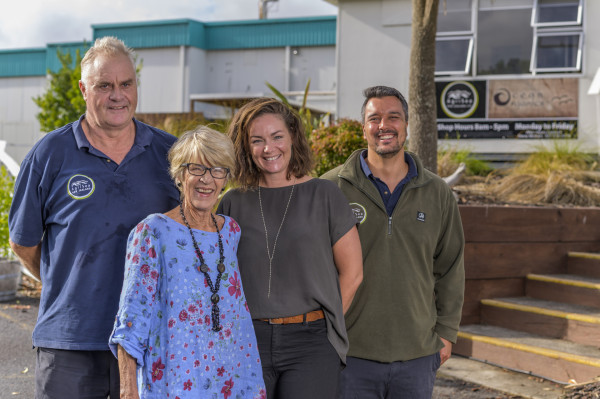 Clare runs the business with the core value of "a whole whānau approach". Her intergenerational family approach means that "mothers and sons, aunties and uncles, and our children are around the business".
"In the early days, our family all lived in the back of the seaweed factory…Our production manager used to get jokingly grumpy with my son because he'd always be eating ALL the seaweed that was brought in…We used to laugh and say, we'd never have any seaweed leftover if we left it up to him."
To honour their family's love of seaweed, they've named their youngest son Reef, "because seaweed grows on the reef". Clare chuckles, "and it was going to be a mouthful to name him Ecklonia radiata", the scientific name for our local kelp species.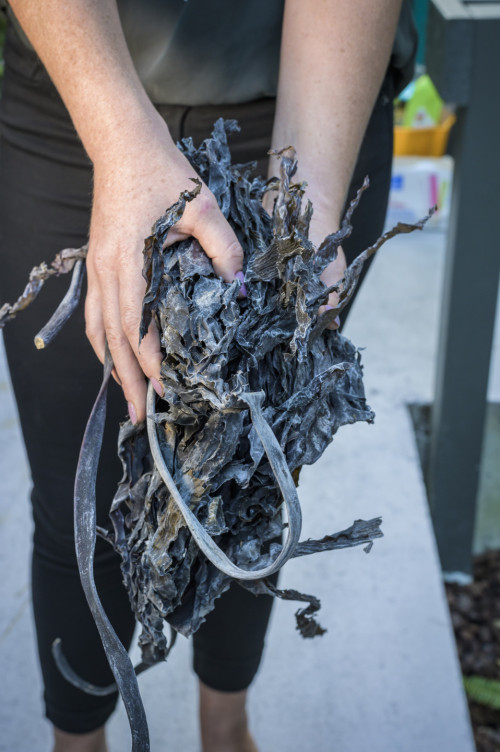 But running a family-owned seaweed business isn't all seaweed snacks and family time, it has unique challenges.
Clare is concerned about the degraded state of our oceans, noting that there are "some massive challenges" for marine ecosystems. "We can't make the same mistakes we've made on land in our oceans, we have to take a whole ecosystem approach".
As a "solution focused company and family", they practice sustainable harvest and farming of seaweed. "There's always seaweed left on the beach for the ecosystem that relies on it." They pride themselves on respecting that every living thing plays a role in an ecosystem. They treat rimurimu as taonga, not as a resource to be exploited.
"We put sustainability and ecosystem health above all."
She's also faced challenges educating people about seaweed as an innovative solution. "Seaweed has been seen as snake oil for so long, and that's been a struggle to validate the use of seaweed in soil and animal nutrition."
"Local and international research has changed this, the evidence is clear" that seaweed has benefits for both marine ecosystems and agricultural systems. Since starting at AgriSea 16 years ago, Clare has seen a "monumental shift in thinking" around seaweed as a sustainable solution. She feels honoured to work with other people who are committed to caring for our oceans and lands.
"We get to work with the most innovative and forward-thinking farmers in this country…They are aware of some of the degradation to our lands and waters that's happened…and are committed to seeing how they can make it better."
When Clare feels overwhelmed managing the business she takes time to connect with the moana. "The ocean really is the place I will go to get clarity. A bit of a beach walk meeting when things get tough…is absolutely a part of our business strategy"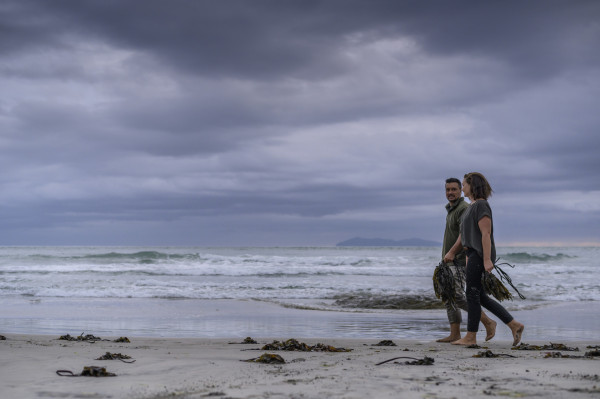 She's also passing on a love and respect for the moana to the next generation. Each year, she takes her kids back to Moturoa Island to swim, camp and harvest kaimoana on the coastlines of her childhood.
"It's absolutely a blessing to be able to pass that down to another generation, and I am grateful to the generations before me who have given us the opportunity."
Clare now gets to watch her children explore tide pools and holler the scientific names of different seaweed species. She's giving her kids the gift of a childhood filled with "safe trouble".