Posted on 20 March 2022
Haere mai to our new Challenge Manager, Caitlyn Shannon
Less than a minute to read
We are pleased to welcome Caitlyn Shannon to the
Challenge Leadership Team

as our new Challenge Manager.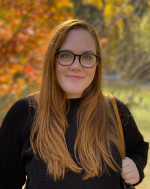 Caitlyn has a scientific background in Marine Biology, with a particular interest in anthropogenic pollutants and their effects on the marine ecosystem. She received a First Class Master's degree from Victoria University of Wellington, where her research focused upon the abundance and distribution of microplastics throughout the Southern Ocean, as well as within Wellington Harbour.
Following on from her Master's degree, Caitlyn took on an office management role at a local Wellington ferry company where she handled the day-to-day operations, event planning, and people management.
The role of Challenge Manager for Sustainable Seas will utilise Caitlyn's existing experience, as she draws upon her scientific background to inform the context of this Challenge, whilst applying her office management experience to the role.