Posted on 14 February 2018
Blog: Lana Young from RV Polaris II (week 1)
Lana, a student at the University of Otago, reports on life at sea and the fieldwork being done for our Ecosystem Connectivity project. This is her first research voyage.

7 February: All aboard
With all our gear on board we were set to go! Full steam ahead, we left dry land in Dunedin. Over the next 3 weeks our adventures will take us all the way up to the Malborough Sounds and Tasman Bay, where we will collect all the data a marine scientist could ever want… Well not quite, but we have a chocker plan to collect as much info as we can for our PhD, MSc and Honours scientists on board.
With a lot of water to cover, our first day was a great opportunity for us to find our sea legs as we made our way to Akaroa. Just as the sun was setting, we were visited by some Dusky dolphins riding on the bow, this never gets old! Leaving our progress in the trusty hands of our crew Bill and Evan, we climbed into our bunks feeling a little like pirates looking for treasure.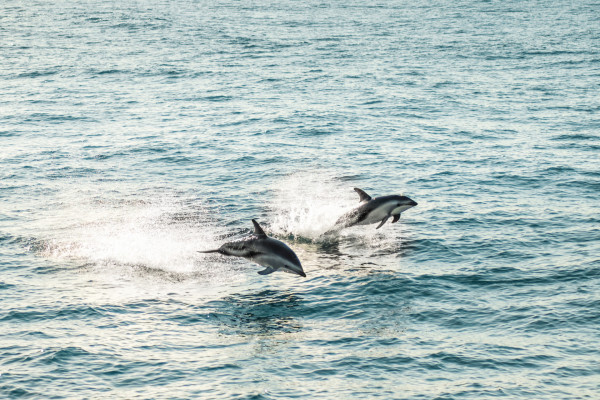 8 February: Fishing for water
It's easy to think of the ocean as a big ol' pond of salty cold water, but in fact there is huge variation in all sorts of things like temperature, nutrients and salinity with both depth and distance. These factors combine to create different environments ideal for a range of marine species.
It was a full day of fishing for water for Leo – his research is looking at the isospace (landscape of isotopes) in the sub-antarctic waters off New Zealand. How do you fish for water? We motored from the coastline near Akaroa straight out for about 120km, and at a few locations along the way dropped a CTD cast over the side.
This nifty tool allows us to measure the salinity, temperature, depth, fluorescence and oxygen in the water all the way down to 500m, and is a great way to help Leo get context for his water samples. Attached to the CTD are bottles which are open at either end, and when we send a signal down the line they snap closed! We capture little pockets of water from various depths and then can filter the water through fancy pieces of machinery to find out about the nitrogen and carbon isotopes in them.