Stocktake and characterisation of Aotearoa New Zealand's seaweed sector: Environmental effects of seaweed wild-harvest and aquaculture
This report describes the ecosystem services provided by seaweed and the potential environmental impacts of a seaweed sector. Clark DE, Newcombe E, Clement D, Magnusson M, Lawton RJ, Glasson RK, Major R, Adams S (November 2021)
This report is part 3 of a broad sector review, and will inform the co-development of a Seaweed Sector Framework for Aotearoa New Zealand.
It considers all potential environmental effects of harvesting wild seaweed and cultivating it on farms. It also highlights those benefits and risks that will need to be considered to develop an EBM framework for a sustainable and high-value rimurimu/seaweed sector in Aotearoa New Zealand.
Key points
Growth of seaweed aquaculture would allow the scale of the seaweed industry to increase without placing pressure on wild populations and provide greater control over the consistency and quality of the product.
While the potential for seaweed aquaculture to supply ecosystem services, as well as biomass, is often promoted as a key benefit, the delivery of these services is highly dependent on scale and context.
Seaweed farming is considered to have a lower environmental risk than most other forms of aquaculture.
The greatest environmental risks posed are genetic interactions with wild populations, disease and marine pests, and wildlife entanglement.
The site-specific nature of many of the benefits and risks, and the associated uncertainty about their effects, highlights the importance of developing an ecosystem-based management (EBM) framework for the seaweed sector in Aotearoa New Zealand.
Infographics
There are two infographics associated with this report:
Possible ecosystem services and negative environmental effects associated with seaweed aquaculture in coastal environments
Areas that are ecologically suitable for seaweed aquaculture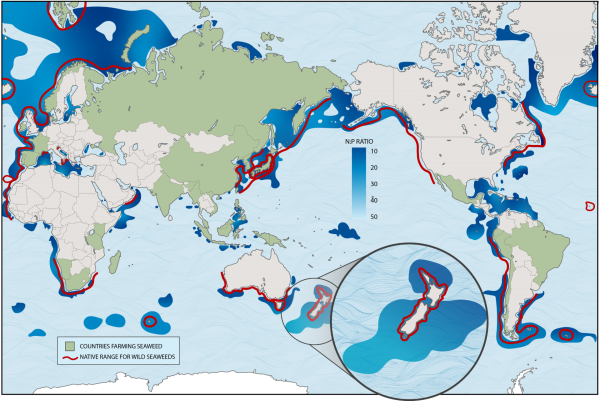 Adapted by Revell Design with permission from Froelich et al (2019)
Related reports