Kaitiaki-centred business models: 3 pou
This poster summarises an analytical framework for examining kaitiaki-centred business models. A kaitiaki-centred business model is one that focuses on the environmental, economic and social not as individual, competing components but rather as three interconnected pou (pillars) of mauri sustainment, or well-being.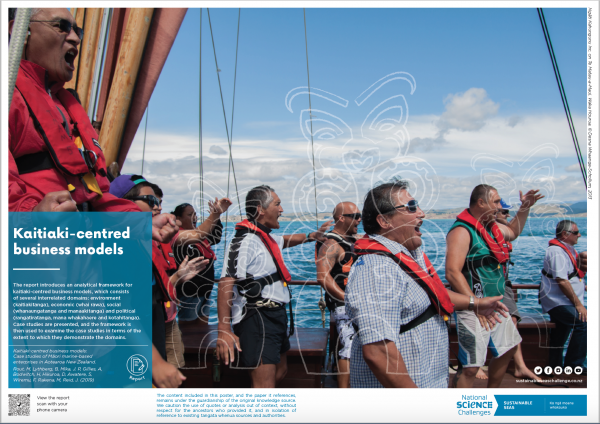 The pou
Whai Rawa –

Develop kaitiaki business models that embed Māori commercial activity within sustainable ecosystem processes.

Whai Mana – An integrated value chain where as many elements as possible are owned by Māori.
Whai Oranga –

Regulatory and policy tools to embed mātauranga Māori in sustainable commercial and customary fishing activities.
A kaitiaki-centred business model:
Focuses on ensuring the long-term vitality and health of the ecosystem on which the business depends

Requires the business' benefits to be as widely distributed as possible

Aims for the business to be profitable, as a means of ensuring it is beneficial to both people and planet
The framework
A framework that encapsulates a range of Māori values across a range of key domains was developed to examine the parameters of the kaitiaki-centred business model.
The framework consists of several interrelated domains:
Environment – kaitiakitanga

Economic – whai rawa

Social – whanaungatanga and manaakitanga

Political – rangatiratanga, mana whakahaere and kotahitanga
How the framework was used
This framework was developed by the Whai Rawa, Whai Mana, Whai Oranga project team, and used to examine case studies of Māori marine-based enterprises.
The content included in this summary remain under the guardianship of the original knowledge sources.