Hui-te-ana-nui: Kaitiakitanga cards
Mātauranga Māori is a complex system of experiential knowledge that comprises intergenerational beliefs, values and practices that contribute to the sustainable management of the marine environment. This set of 11 summary cards (A5, double-sided) point to a range of key metaphysical and physical elements of kaitiakitanga contained in the Hui-te-ana-nui report. (cards published June 2021)
The metaphysical elements of kaitiakitanga are: discourses of creation narratives of the marine environment; kaitiaki and non-human forms; kaitiakitanga, whakapapa, whanaungatanga and kinship; kaitiakitanga, spiritual beliefs and values; kaitiakitanga and taonga; and kaitiakitanga and rangatiratanga.
If you would like hard copies of these postcards please contact [email protected]
These summary cards are introduction tools only, not universal definitions.
Iwi, hapū and whānau knowledge systems are place and people specific. We caution the use of quotes or analysis out of context, without respect for those ancestors who provided it, and in isolation of reference to existing tangata whenua (tangata moana) sources and authorities. These summaries are effectively 'background reading' in preparation for deeper discussions.
We hope these cards are useful to iwi, hapū and whānau in the pursuit of their own knowledge retention, expansion and transmission to future generations.
We also anticipate these summaries will be useful to marine related decision makers of all kinds and at all levels. We encourage people to read the Hui-te-ana-nui report as an opportunity to better understand a Mātauranga led way of working with the Tangaroa ecosystem.
The content included in these summaries remain under the guardianship of the original knowledge sources.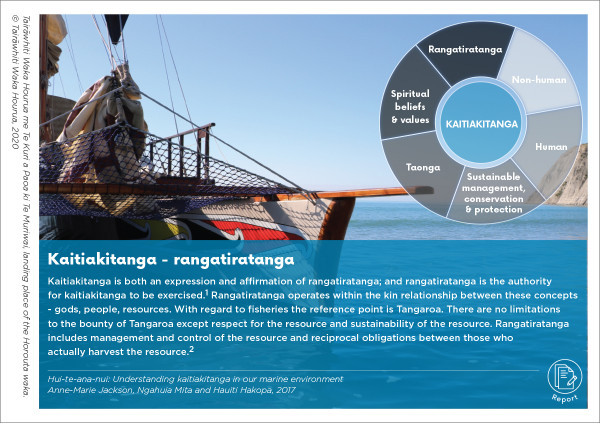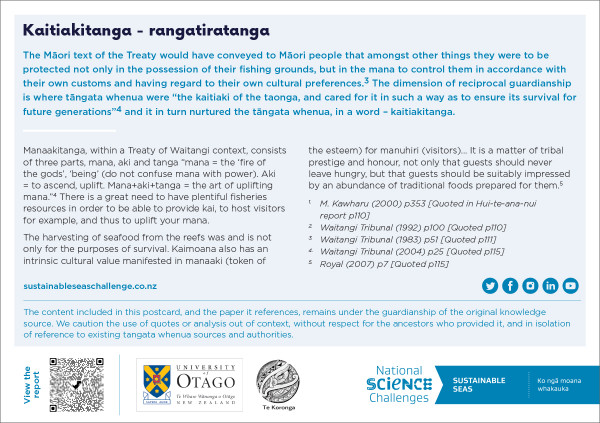 About the Hui-te-ana-nui report
The report also:
Examines mātauranga associated with the marine environment
Indexes the reference sources of this varied mātauranga
Signposts where to go for further detail
Understanding, developing and retaining mātauranga and kaitiakitanga specific to the marine environment is a vital component of ecosystem-based management (EBM) for Aotearoa. For example, it is crucial for developing spiritual, cultural, social, environmental and economic practices, indicators and metrics that are relevant to our Aotearoa context.
Hui-te-ana-nui, the whare of Tangaroa
Hui-te-ana-nui is a creation pūrakau (narrative). This narrative discusses the whare (house) of Tangaroa (god/ocean ecosystem) that he and his brother Tāne (god/forest ecosystem) built, modelled after Wharekura, the house that Io (genesis entity) dwelt within.