Posted on 04 May 2022
Sustainable Seas resources feature in Southern Institute of Technology course
In November, Bálint Koller, Instructional Designer at the Southern Institute of Technology, asked about our resources relevant to marine management and EBM for their ENV402 Marine and Freshwater Ecology level 4 certification course. He was looking for interactive resources based on up-to-date research.
Bálint says, "The Sustainable Seas team was so super-helpful in our correspondence, I cannot thank them enough for leading me to a wealth of resources. They really went over and beyond the call of duty in thinking about what would be suitable for the course I was re-designing."
He incorporated this animation about what EBM is and why it's needed and the Hui-te-ana-nui: Kaitiakitanga cards into the digital learning module
"These resources explain science in a way that is accessible to our students, many of them would not have read academic papers."
The updated course launched on 28 March. Students in the ENV402 watched the video, read the cards, took a quiz on key concepts, and reflected on the concept of rangatiratanga in a blog entry. Bálint is looking forward to receiving student feedback and will share it with us so that we can continue to improve our resources.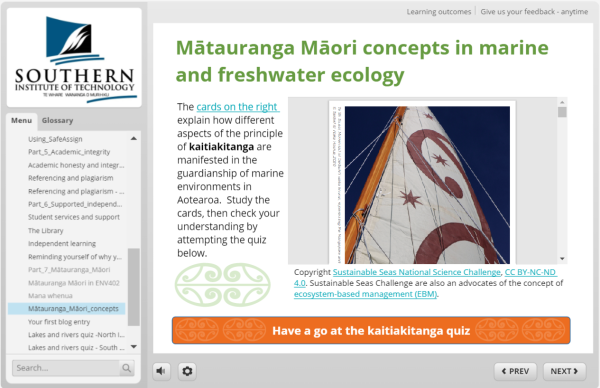 Interested in using Sustainable Seas resources in your education programme? Explore the tools and resources section to discover webinars, graphics, research summaries, guidance documents, videos, schools resources and more.