Zoom Webinar
Webinar: Estuaries in a changing world: 7 lessons for long-term monitoring
Over a year ago, the Parliamentary Commissioner for the Environment released Managing our estuaries, a report that clearly outlines that many estuaries are in trouble.
In this webinar, Judi Hewitt (Sustainable Seas Challenge) and Megan Carbines (Auckland Council) will briefly present 7 key lessons for resource managers to consider when designing long-term monitoring programmes for estuaries.
The 7 lessons are based on research from our Tipping Points project and the Manukau Marine Ecology Monitoring Programme, one of the longest, ongoing estuary monitoring programmes in Aotearoa New Zealand (and are presented in this guidance).
Long-term monitoring programmes are one of the only ways we can identify and track environmental changes in estuaries related to past management decisions, and to inform future management strategies.
We invite attendees to participate in a Q+A session based on the content in the guidance, and to share their experiences in regional and national estuary monitoring.
Please read the guidance and send any questions and/or feedback to [email protected].
If you would like printed copies, you can request them when registering for the webinar.
Click image below to download the PDF.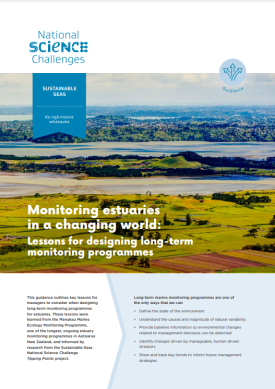 Who is it for?
This webinar is open and free to anyone, but will be of particular interest to regional councils, DOC, MfE, marine managers, marine scientists and students, or anyone designing estuary monitoring programmes.
Registrants should note that this webinar content will be targeted for technical audiences working in estuary monitoring and management.
Will it be recorded?
Yes, our webinars are recorded and made available online soon afterwards.
About the speakers
Judi Hewitt is former Programme Leader Managing Marine Ecosystems, Coasts and Oceans Centre, NIWA and is now a Professor in the Department of Statistics, University of Auckland and our Theme Leader: Risk and uncertainty. She is a statistical marine ecologist who has worked extensively in estuarine and coastal systems and has recently been involved in projects assessing ecosystem health, cumulative effects, and ecological risk assessment. Judi has extensive experience in multidisciplinary research and interactions with stakeholders having completed many projects for commercial clients and has worked with stakeholder panels for her research projects.
Megan Carbines is a Principal Scientist at Auckland Council. She has played a substantial role developing and overseeing estuarine monitoring programs in the Auckland region where land derived sediment inputs has been a concern. The work Megan oversees contributes to State of the Environment Reports and informs policy and management of the coastal zone. During Phase I, Megan sat on the Dynamic Seas advisory panel and contributed to the co-development of many Phase II research.